Release Notes:
Measure Information Form
Version 2010B
Measure Information Form
Measure Set: Blood Management(BM) Set Measure ID: BM-03 Performance Measure Name: Plasma Transfusion Indication Description: The total number of plasma transfusion events that had a pre-transfusion laboratory value AND clinical indication documentation from a sample of patients who received plasma. Rationale: The use of plasma has increased and is disproportionally high compared to other countries with similar levels of health care. Indications for transfusing plasma are very limited, and as a result, published studies often show unjustifiable use of plasma. According to the National Heart Lung and Blood Institute, plasma should be administered only to increase the level of clotting factors in patients with a demonstrated deficiency. If the prothrombin time (PT) and partial thromboplastin time (PTT) are < 1.5 times normal, a plasma transfusion is rarely needed. However, plasma is frequently transfused to patients with mild-to moderate elevations in PT despite numerous studies that have not shown a correlation between the risk of bleeding and mild-to moderate test results. In a study by Wahab et al, transfusion of plasma for mild abnormalities of coagulation values resulted in a partial normalization in a minority of patients, and failed to correct the PT in 99% of the patients. In a 2004 study by Hui, the need to correct prolonged international normalized ratios (INRs) for patients on warfarin emerged as the primary indication for plasma followed by massive transfusions. Type of Measure: Process Improvement Noted As: Increase in the rate

Numerator Statement:

Number of plasma transfusion events with pre-transfusion laboratory value AND clinical indication documented
Included Populations: Not applicable Excluded Populations: None Data Elements:
Denominator Statement:
Number of plasma transfusion events that were evaluated
Included Populations:

Discharges with an ICD-9-CM Principal or Other Procedure Codes for transfusion as defined in Appendix A, Table 9.6.
The first three plasma events per patient from hospital arrival

Excluded Populations:

Patients less than 4 months of age

Data Elements:
Risk Adjustment: No. Data Collection Approach: Retrospective data sources for required data elements include administrative data and medical records. Data Accuracy: Variation may exist in the assignment of ICD-9-CM codes; therefore, coding practices may require evaluation to ensure consistency. If ICD-9-CM codes are not present, alternative methods of identifying patients who received blood transfusions may be required. Measure Analysis Suggestions: Data from this measure may be used to review the type of invasive procedures or surgeries that use plasma in order to further evaluate appropriateness of use. Sampling: Yes. For additional information see the Population and Sampling Specifications Section. Data Reported As: Aggregate rate generated from count data reported as a proportion. Selected References:
Hui C, Williams I, Davis K. Clinical audit of the use of fresh-frozen plasma and platelets in a tertiary teaching hospital and the impact of a new transfusion request form. Int Med J. 2005;35:283-288.
Wallis JP, Dzik S. Is fresh frozen plasma overtransfused in the United States? Transfusion. 2004;44:1674-75.
Ardel-Wahab OI, Healy B, Dzik WH. Effect of fresh-frozen plasma transfusion on prothrombin time and bleeding in patients with mild coagulation abnormalities. Transfusion. 2006;46:1479-1285.
Segal J, Dzik WH; Transfusion Medicine/Hemostasis Clinical Trials Network. Paucity of studies to support that abnormal coagulation test results predict bleeding in the setting of invasive procedures: an evidenced-based review. Transfusion. 2005;45:1413-25.
Measure Algorithm: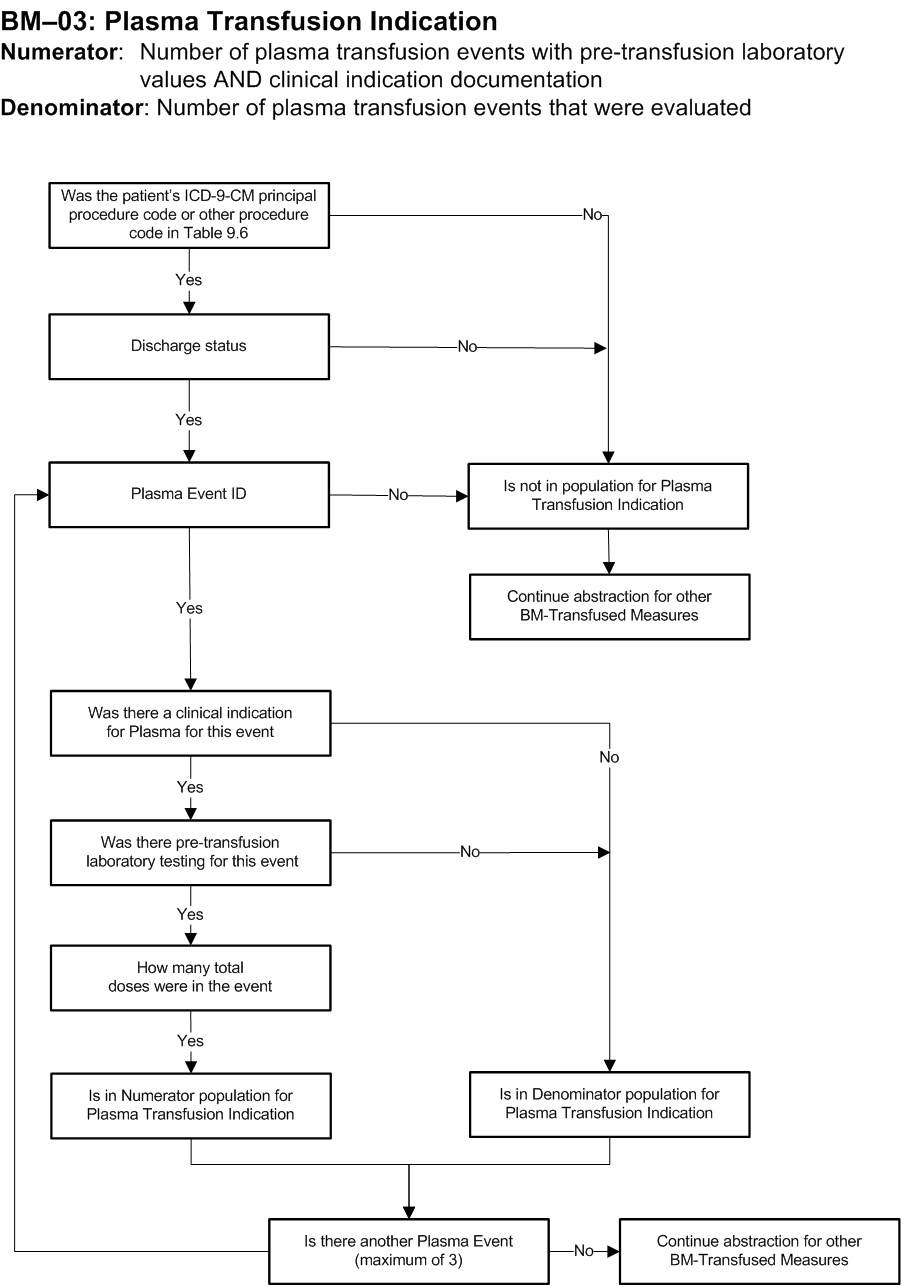 Attach file