Release Notes:
Measure Information Form
Version 2010B
Measure Information Form
Measure Set: Blood Management(BM) Set Measure ID: BM-01 Performance Measure Name: Transfusion Consent Description: Patients with a signed consent who received information about the risks, benefits and alternatives of transfusion prior to the initial blood transfusion or the initial transfusion was deemed a medical emergency. Rationale: Planning a discussion with a licensed practitioner regarding the risks, benefits and alternatives of transfusion is an opportunity for the patient to participate in decisions about his or her care. It is a process that takes into consideration, each patient's preferences, clinical needs and provides information in compliance with the regulations and policies of the state and facility. Even though policies related to informed consent may vary among hospitals, all hospitals require some type of consent prior to treatment unless emergency care is needed. The elements of performance for the Joint Commission Standard RI.01.03.01 related to the informed consent process include a discussion about the risks, benefits and alternatives, and a discussion about the risk, if care is not received. This measure is also supported by the Joint Commission's National Patient Safety Goal (NPSG) 13 that encourages patients' active involvement in their own care as a patient safety strategy. For many years, the American Association of Blood Banks (AABB) organization has supported the consent process for transfusion and has developed several standards such as AABB Standard 5.19.1. AABB requires that at a minimum, a recipient consent for transfusion and that should include; a description of the risks, benefits and treatment alternatives, the opportunity to ask questions and the right to accept or refuse transfusion. Type of Measure: Process Improvement Noted As: Increase in the rate

Numerator Statement:

Patients with a signed consent who received information about the risks, benefits and alternatives prior to the initial blood transfusion or the initial transfusion was deemed a medical emergency
Included Populations: Not applicable Excluded Populations: None Data Elements:
Denominator Statement:
Patients who received red blood cell, plasma or platelet transfusions
Included Populations: Discharges with an ICD-9-CM Principal or Other Procedure Codes for transfusion as defined in Appendix A, Table 9.2-9.6. Excluded Populations:

Patients less than 4 months of age

Data Elements:
Risk Adjustment: No. Data Collection Approach: Retrospective data collection sources for required data elements include administrative data and medical records. Data Accuracy: Variation may exist in the assignment of ICD-9-CM codes; therefore, coding practices may require evaluation to ensure consistency. If ICD-9-CM codes are not present, alternative methods of identifiying patients who received blood transfusions may be required. Measure Analysis Suggestions: Hospitals may want to evaluate the cases according to medical or surgical designation that were not included in the numerator in order to determine if the consent was signed and/or if all or only part of the educational components were given or if documentation was insufficient. Based on this information, hospitals may assess the barriers impacting this measure that could be improved. Sampling: Yes. For additional information see the Population and Sampling Specifications Section. Data Reported As: Aggregate rate generated from count data reported as a proportion. Selected References:
Speiss BD, Counts RB, Gould SA. Perioperative Transfusion Medicine, Williams and Wilkins; 1998; 201-204.
Stowell C, Sazama K. Informed Consent in Blood Transfusion and Cellular Therapies: Patients, Donors and Research Subjects. AABB Press; 2007; ISBN #978-1-56395-254-8.
Burch JW, Uhl L. Guidelines for Informed Consent in Transfusion Medicine. AABB Press; 2006; ISBN #1-56395-146-0.2008.
Standards for Blood Banks and Transfusion Services, 25th ed. Bethseda, MD: AABB 2008.
The Joint Commission: Comprehensive Accreditation Manual for Hospitals, 2009. Oakbrook Terrace, IL. Joint Commission Resources, Inc, 2009.
The Joint Commission, "National Patient Safety Goals (NPSG)", IN: Comprehensive accreditation manual for hospitals, 2009. Oakbrook Terrace, IL; Joint Commission Resources, Inc., 2009, pp. NPSG 1 – NPSG 4.
Measure Algorithm: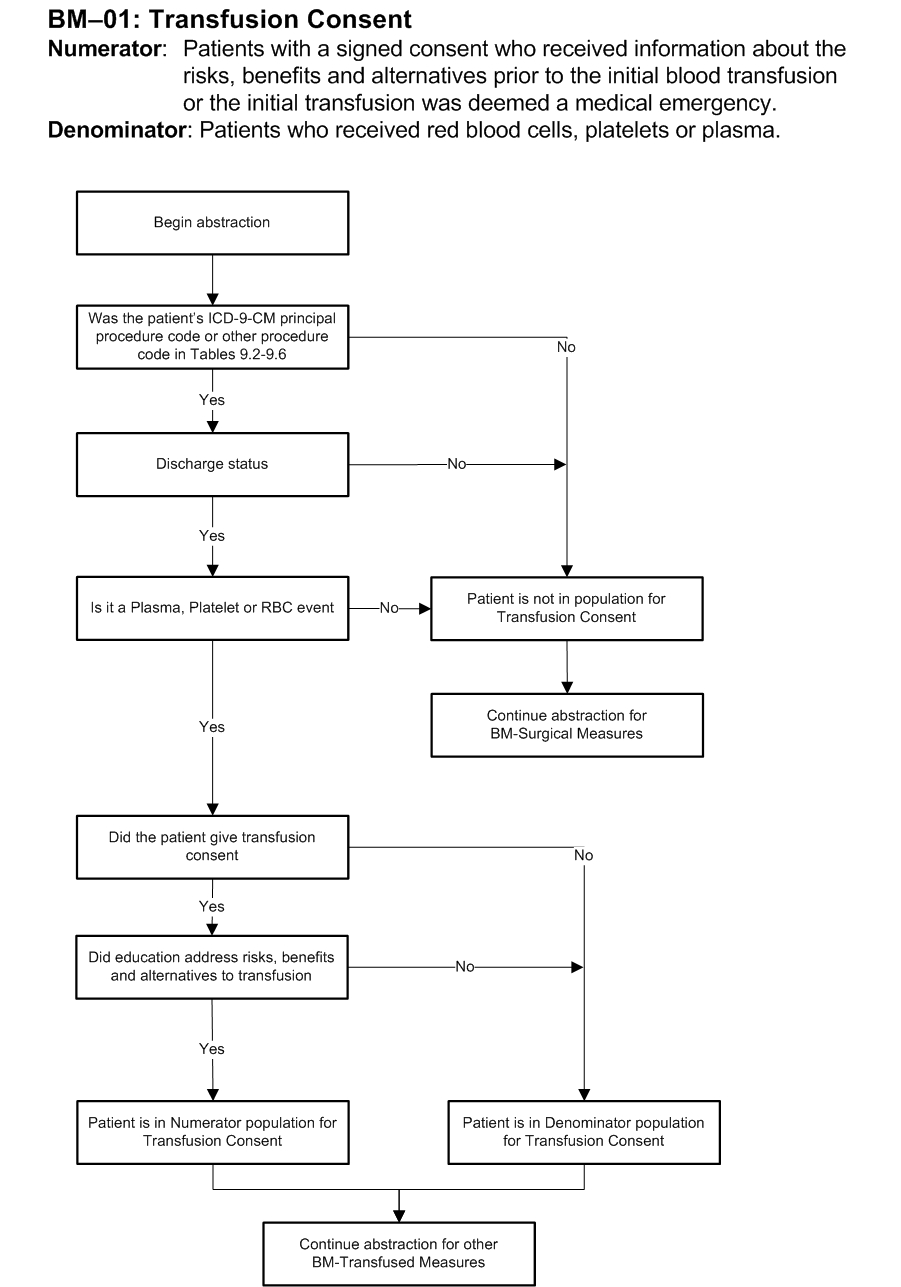 Attach file