Release Notes:
Measure Information Form
Version 2010B1
**NQF-ENDORSED VOLUNTARY CONSENSUS STANDARDS FOR HOSPITAL CARE**
Measure Information Form
Measure Set: Perinatal Care(PC) Set Measure ID: PC-03 Performance Measure Name: Antenatal Steroids Description: Patients at risk of preterm delivery at 24-32 weeks gestation receiving antenatal steroids prior to delivering preterm newborns Rationale: The National Institutes of Health 1994 recommendation is to give a full course of corticosteroids to all pregnant women between 24 weeks and 34 weeks of gestation who are at risk of preterm delivery. Repeated corticosteroid courses should not be used routinely, because clinical trials show decreased brain size, decreased birth weight, and adrenal insufficiency in newborns exposed to repeated doses. Treatment should consist of two doses of 12 mg of betamethasone given intramuscularly 24 hours apart or four doses of 6 mg dexamethasone given intramuscularly every 12 hours. A full course of antenatal corticosteroids should be administered to women with premature rupture of membranes (PROM) before 32 weeks of gestation to reduce the risks of respiratory distress syndrome, prenatal mortality, and other morbidities. The efficacy of corticosteroid use at 32-34 completed weeks of gestation is unclear based on available evidence, but treatment may be beneficial, particularly if pulmonary immaturity is documented (Lockwood & Lemons, 2007). Type of Measure: Process Improvement Noted As: Increase in the rate

Numerator Statement:

Patients with a full course of antenatal steroids completed prior to delivering preterm newborns
Included Populations: Full course of antenatal steroids (refer to Appendix B, Table 11.0, antenatal steroid medications) Excluded Populations: None Data Elements:
Denominator Statement:
Patients delivering preterm newborns with 24-32 weeks gestation completed
Included Populations: Not applicable Excluded Populations:

Less than 8 years of age
Greater than or equal to 65 years of age
Length of Stay >120 days
Enrolled in clinical trials
Documented Reason for Not Administering Antenatal Steroid

Data Elements:
Risk Adjustment: No. Data Collection Approach: Retrospective data sources for required data elements include administrative data and medical records. Data Accuracy: Variation may exist in the assignment of ICD-9-CM codes; therefore, coding practices may require evaluation to ensure consistency. Measure Analysis Suggestions: In order to identify areas for improvement in antenatal steroid administration rates, hospitals may wish to review documentation for reasons. Education efforts can be targeted based on the specific reasons identified. Sampling: Yes. For additional information see the Sampling Section. Data Reported As: Aggregate rate generated from count data reported as a proportion. Selected References:
Lockwood, C.J., ed. & Lemons, J.A., ed. (2007). Guidelines for Perinatal Care, Sixth Edition, American Academy of Pediatrics and the American College of Obstetricians and Gynecologists, ISBN 978-1-58110-270-3; ISBN 978-1-932328-36-3, pp. 178-181.
NIH Consensus Development Conference Statement: The Effect of Corticosteroids for Fetal Maturation on Perinatal Outcomes. February 28-March 2, 1994.
Original Performance Measure Source / Developer:
Providence St Vincent's Hospital/Council of Women and Infant's Specialty Hospitals Measure Algorithm: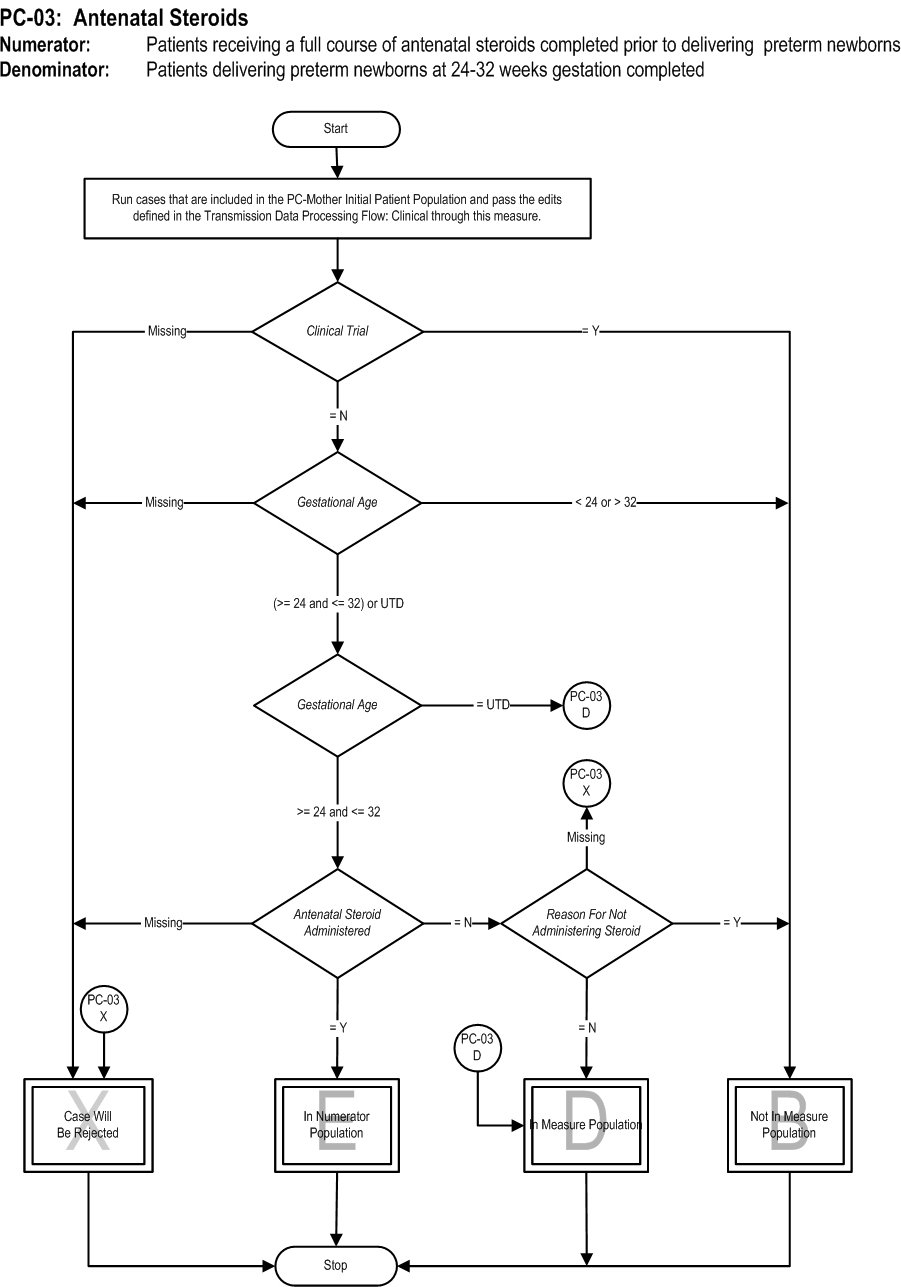 Attach file

Download jpg Files:
Page 1