Comprehensive Cardiac Center (CCC) Initial Patient Population
Data collection for five new standardized performance measures are required for Comprehensive Cardiac Center (CCC) certification. In addition, a second set of optional measures are available. All currently certified CCC organizations, as well as those seeking initial certification, are required to implement data collection on the five mandatory standardized measures.
The measures chosen for implementation within the CCC certification program address major aspects of cardiac care, within the following 4 domains: cardiac rehabilitation, myocardial infarction (MI), heart failure (HF), and cardiac surgery (coronary artery bypass graft, cardiac valve repair/replacement and percutaneous coronary intervention [PCI]). The measures are separated into mandatory and optional measures and then again by inpatient and outpatient status. The certification program also includes 5 measures that are currently used in The Joint Commission's Advanced Heart Failure Certification program (ACHF-01, ACHF-02, ACHF-06, ACHFOP-03, and ACHFOP-06). Organizations should follow the ACHF and ACHFOP initial patient population algorithm's that are posted to The Joint Commission's Measure Specifications Manual to determine the patient population for the heart failure measures.
There are 5 mandatory measures: high-intensity statin, aldosterone antagonist, beta-blockers, post-discharge appointment and post-discharge evaluation that all certified organizations must abstract. The additional 3 inpatient and 5 outpatient measures are optional. It is highly recommended that the all organizations collect the optional measures to assist them with advancing quality of care for the cardiac patients they serve.
All the mandatory measures capture the quality of care provided to myocardial infarction (MI) and heart failure patients. Organizations are required to submit inpatient cases for their heart failure patient population and observation and inpatient cases for their MI patient population for the mandatory measures. If the organization submits data for the optional inpatient measures, submitting observation cases is optional.
In order to assist organizations in determining their patient populations for performance measurement, The Joint Commission has defined outpatient, inpatient, and observation. Patients assigned as outpatients are defined as, a patient who is not hospitalized overnight but who visits a hospital, clinic, or associated facility for diagnosis or treatment. CPT® codes are utilized to bill outpatient cases when the patient undergoes a procedure. Any patient who has outpatient surgery that is billed using a CPT® code should be assigned to the outpatient bucket to determine cases for abstraction.
Patients assigned as inpatient or observation are defined as, a patient who is hospitalized overnight. ICD-10 PCS codes are utilized to bill inpatient and observation cases when the patient undergoes a procedure. Any patient who is listed as an inpatient
Comprehensive Cardiac Center (CCC) Outpatient Initial Patient Population
The population for this outpatient measure set is identified using the following 5 data elements:
Birthdate
EM Code
ICD-10-PCS Principal Diagnosis Code
Patients with an HCPCS/CPT® Procedure Code
Outpatient Encounter Date
Patients seen in the outpatient setting are included in the outpatient initial patient population if they have: Patient Age (Outpatient Encounter Date — Birthdate) ≥18 years old and an E/M Code on Appendix A, Table 2.0 for a hospital outpatient encounter.
AND
Subpopulation Medial - heart failure and myocardial infarction identified by:
ICD-10-CM Principal Diagnosis Code as defined in (HF) Appendix A, Table 2.1, or (MI) Appendix A, Table 2.3
Surgical -PCI, ICD identified by:
HCPCS/CPT® code defined in Appendix A, Table 2.11 (PCI)
---
Initial Patient Population Algorithm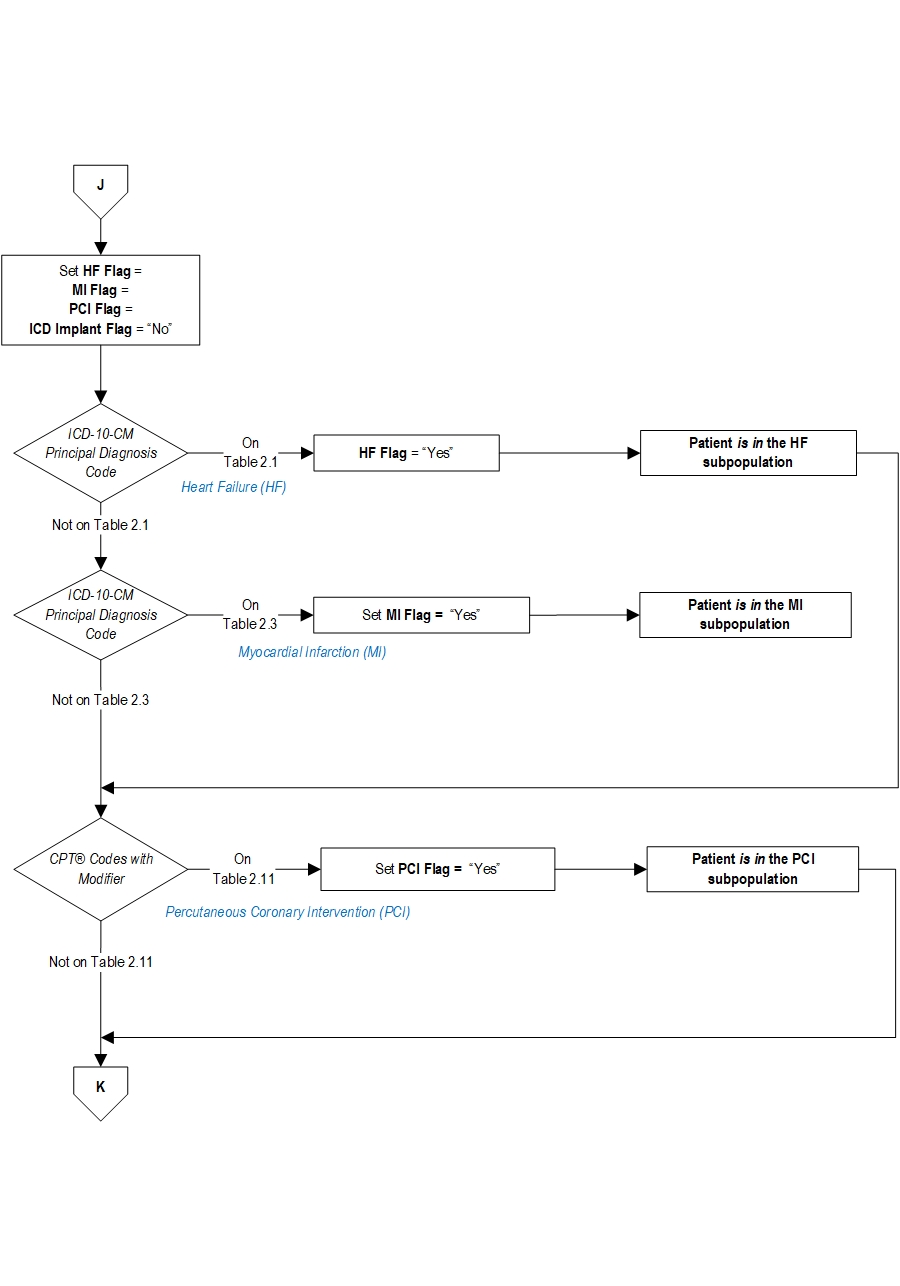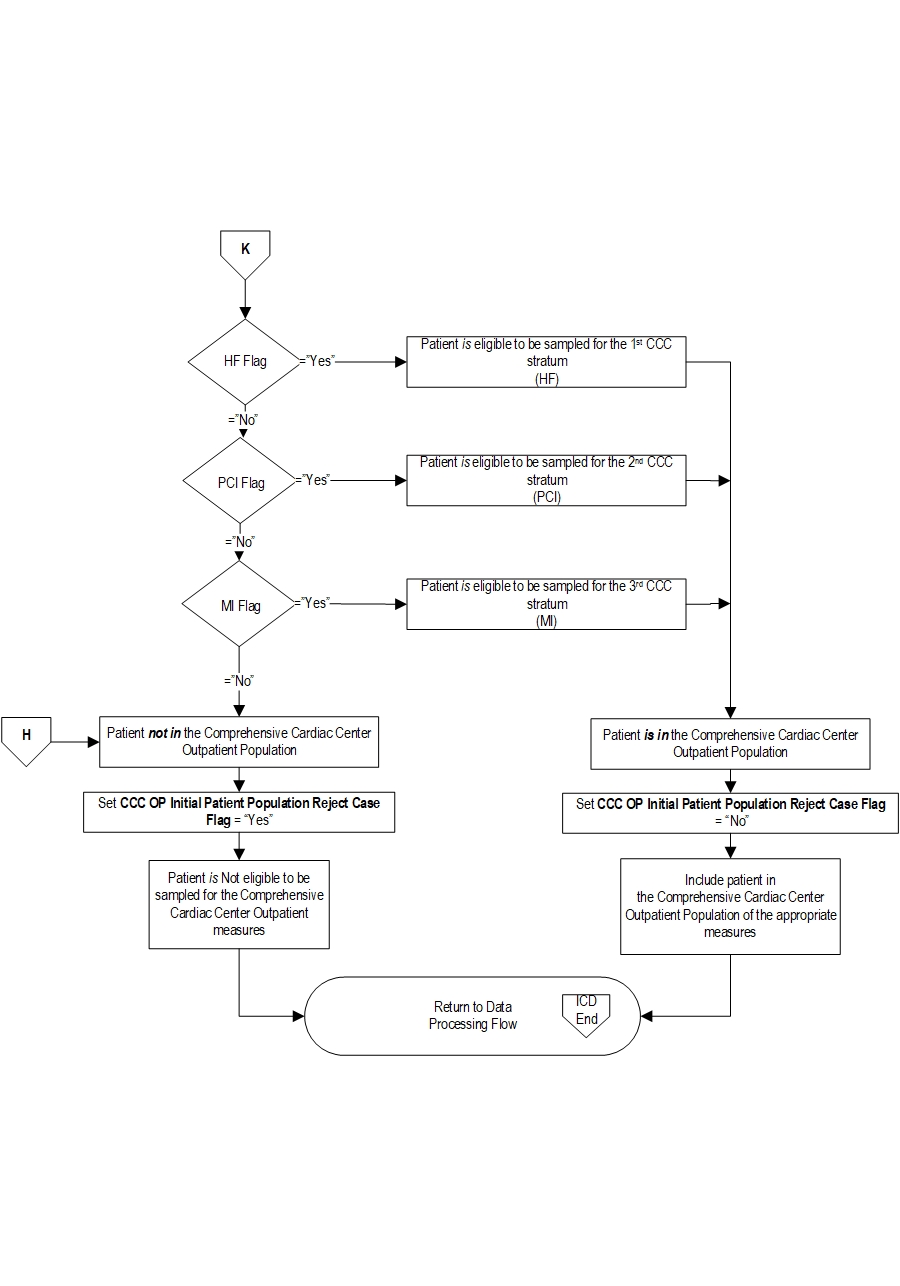 ---
CCC Sample Size Requirements
Hospitals that choose to sample have the option of sampling quarterly or monthly. A hospital may choose to use a larger sample size than is required. Hospitals whose patient population size is less than the minimum number of cases per quarter for the measure set cannot sample.
Regardless of the option used, hospital samples must be monitored to ensure that sampling procedures consistently produce statistically valid and useful data. Due to exclusions, hospitals selecting sample cases MUST submit AT LEAST the minimum required sample size.
Sample sizes are based on the hospital's patient population for each measure category. Once the patient population for each measure category is determined the coinciding measures should be abstracted for the measure category population. An asterisk (*) after the listed measures denotes the mandatory standardized measures that certified organizations must abstract data for. The additional measures that are listed are optional.
| | |
| --- | --- |
| Measure Category | Measures |
| Heart Failure | CCCIP-02*, ACHF-01*, ACHF-02*, ACHF-06*, CCCIP-04, CCCOP-02, ACHFOP-03, ACHFOP-06 |
| MI | CCCIP-01*, CCCIP-03, CCCOP-01, CCCOP-03 |
| PCI/CABG/Valve | CCCIP-03, CCCIP-05, CCCOP-01 (PCI only), CCCOP-03 (PCI only) |
*Mandatory standardized measures that certified organizations must abstract.
Sampling is a process of selecting a representative part of a population to estimate the organization's performance without collecting data for its entire population. Using a statistically valid sample, an organization can measure its performance in an effective and efficient manner. Sampling is a particularly useful technique for performance measures that require primary data collection from a source, such as the medical record. Sampling should not be used unless the organization has a large number of cases in the measure population, because a fairly large number of sample cases is needed to achieve a representative sample of the population of interest. To obtain statistically valid sample data, the sample size should be carefully determined and the sample cases should be randomly selected in such a way that the individual cases in the population have an equal chance of being selected. Only when the sample data truly represent the whole population can the sample-based performance measure data be meaningful and useful.
Sampling Approach:
Simple random sampling - selecting a sample size (n) from a population of size (N) in such a way that every case has the same chance of being selected. Systematic random sampling - selecting every kth record from a population of size N in such a way that a sample size of n is obtained, where k ≤ N/n. The first sample record (i.e., the starting point) must be randomly selected before taking every kth record. This is a two-step process: a) randomly select the starting point by choosing a number between one and k using a table of random numbers or a computer-generated random number; and b) then select every kth record thereafter until the selection of the sample size is completed.
The following sample size tables for each option automatically build in the number of cases needed to obtain the required sample sizes. For information concerning how to perform sampling, refer to the Population and Sampling Specifications section in this manual.
Quarterly Sampling
Hospitals performing quarterly sampling for CCC must ensure that it has determined a patient population for each measure category listed below and that the sample size per measure category meets the following conditions:
Measure Category

Average Quarterly
Patient Population
Size "N"
Minimum Required
Sample Size "n"
Heart Failure
≥ 1516
304
381 - 1515
20% of Patient Population size
76-380
76
0 - 75
No sampling; 100% Patient Population required
Measure Category

Average Quarterly
Patient Population
Size "N"
Minimum Required
Sample Size "n"
MI
≥ 1516
304
381 - 1515
20% of Patient Population size
76-380
76
0 - 75
No sampling; 100% Patient Population required
Measure Category

Average Quarterly
Patient Population
Size "N"
Minimum Required
Sample Size "n"
PCI
≥ 1516
304
381 - 1515
20% of Patient Population size
76-380
76
0 - 75
No sampling; 100% Patient Population required
Measure Category

Average Quarterly
Patient Population
Size "N"
Minimum Required
Sample Size "n"
CABG
≥ 1516
304
381 - 1515
20% of Patient Population size
76-380
76
0 - 75
No sampling; 100% Patient Population required
Measure Category

Average Quarterly
Patient Population
Size "N"
Minimum Required
Sample Size "n"
Valve
≥ 1516
304
381 - 1515
20% of Patient Population size
76-380
76
0 - 75
No sampling; 100% Patient Population required
Monthly Sampling
Hospitals performing monthly sampling for CCC must ensure that it has determined a patient population for each measure category listed below and that the sample size per measure category meets the following conditions:
Measure Category

Average Quarterly
Patient Population
Size "N"
Minimum Required
Sample Size "n"
Heart Failure
≥ 506
102
131 - 505
20% of Patient Population size
26-130
26
<26
No sampling; 100% Patient Population required
Measure Category

Average Quarterly
Patient Population
Size "N"
Minimum Required
Sample Size "n"
MI
≥ 506
102
131 - 505
20% of Patient Population size
26-130
26
<26
No sampling; 100% Patient Population required
Measure Category

Average Quarterly
Patient Population
Size "N"
Minimum Required
Sample Size "n"
PCI
≥ 506
102
131 - 505
20% of Patient Population size
26-130
26
<26
No sampling; 100% Patient Population required
Measure Category

Average Quarterly
Patient Population
Size "N"
Minimum Required
Sample Size "n"
CABG
≥ 506
102
131 - 505
20% of Patient Population size
26-130
26
<26
No sampling; 100% Patient Population required
Measure Category

Average Quarterly
Patient Population
Size "N"
Minimum Required
Sample Size "n"
Valve
≥ 506
102
131 - 505
20% of Patient Population size
26-130
26
<26
No sampling; 100% Patient Population required
Sample Size Examples
Quarterly sampling:


A hospital's CCC patient population size per measure category, during the 2nd quarter, has been:


2nd quarter patient populations


Heart Failure-650 patients
MI-345 patients

PCI-62 patients

CABG-80 patients

Valve-35 patients


The required sample size per measure category for the 2nd quarter, would be:

Heart Failure-130 patients (650 patients per quarter during the past quarter x 20%=130)

The hospital will abstract the following mandatory measures and if the organization chooses the additional optional measures for these 130 heart failure patients:

CCCIP-02 - mandatory
ACHF-01 - mandatory
ACHF-02 - mandatory
ACHF-06 - mandatory
CCCIP-04 -optional
CCCOP-02 - optional
ACHFOP-03 – optional
ACHFOP-06 - optional

MI-76 patients

The hospital will abstract the following mandatory measures and if the organization chooses the additional optional measures for these 76 MI patients:

CCCIP-01 - mandatory
CCCIP-03 - optional
CCCOP-01 - optional
CCCOP-03 - optional

PCI- 62 patients

No sampling, 100% of patient population required if the organization chooses to abstract the following optional measures:

CCCIP-03 - optional
CCCIP-05 - optional
CCCOP-01 - optional
CCCOP-03 - optional

CABG-76 patients

If the organization chooses, the following optional measures could be abstracted for these 76 CABG patients:

CCCIP-03 - optional
CCCIP-05 - optional

Valve-35 patients

No sampling, 100% of patient population required if the organization chooses to abstract the following optional measures:

CCCIP-03 - optional
CCCIP-05 - optional
Monthly sampling:


A hospital's CCC patient population size during the month of February, per measure category, has been:


February patient populations


Heart Failure-400 patients
MI-345 patients

PCI-80 patients

CABG-35 patients

Valve-20 patients


The required sample size, per measure category, for the February would be:

Heart Failure-80 patients (400 February patients x 20%=80)

The hospital will abstract the following mandatory measures and if the organization chooses, the additional optional measures for these 80 heart failure patients:

CCCIP-02 - mandatory
ACHF-01 - mandatory
ACHF-02 - mandatory
ACHF-06 - mandatory
CCCIP-04 -optional
CCCOP-02 - optional
ACHFOP-03 – optional
ACHFOP-06 - optional

MI-69 patients (345 February patients x 20%=69)

The hospital will abstract the following mandatory measures and if the organization chooses, the additional optional measures for these 69 MI patients:

CCCIP-01 - mandatory
CCCIP-03 - optional
CCCOP-01 - optional
CCCOP-03 - optional

PCI- 26 patients

If the organization chooses, the following optional measures could be abstracted for their 26 PCI patients:

CCCIP-03 - optional
CCCIP-05 - optional
CCCOP-01 - optional
CCCOP-03 - optional

CABG-26 patients

If the organization chooses, the following optional measures could be abstracted for their 26 PCI patients:

CCCIP-03 - optional
CCCIP-05 - optional

Valve-20 patients

No sampling, 100% of patient population required, if the organization chooses to abstract the following optional measures could be abstracted for all their valve patients:

CCCIP-03 - optional
CCCIP-05 - optional